Matsuhisa Eisuke Kamiten (Mino City)
The "Matsuhisa Eisuke Kamiten " located in "Udatsunoagaru-matchinami" (the old town of Mino City). The company mainly wholesales paper yarn and goods made from washi paper, and also manufactures socks and towels made from paper yarn.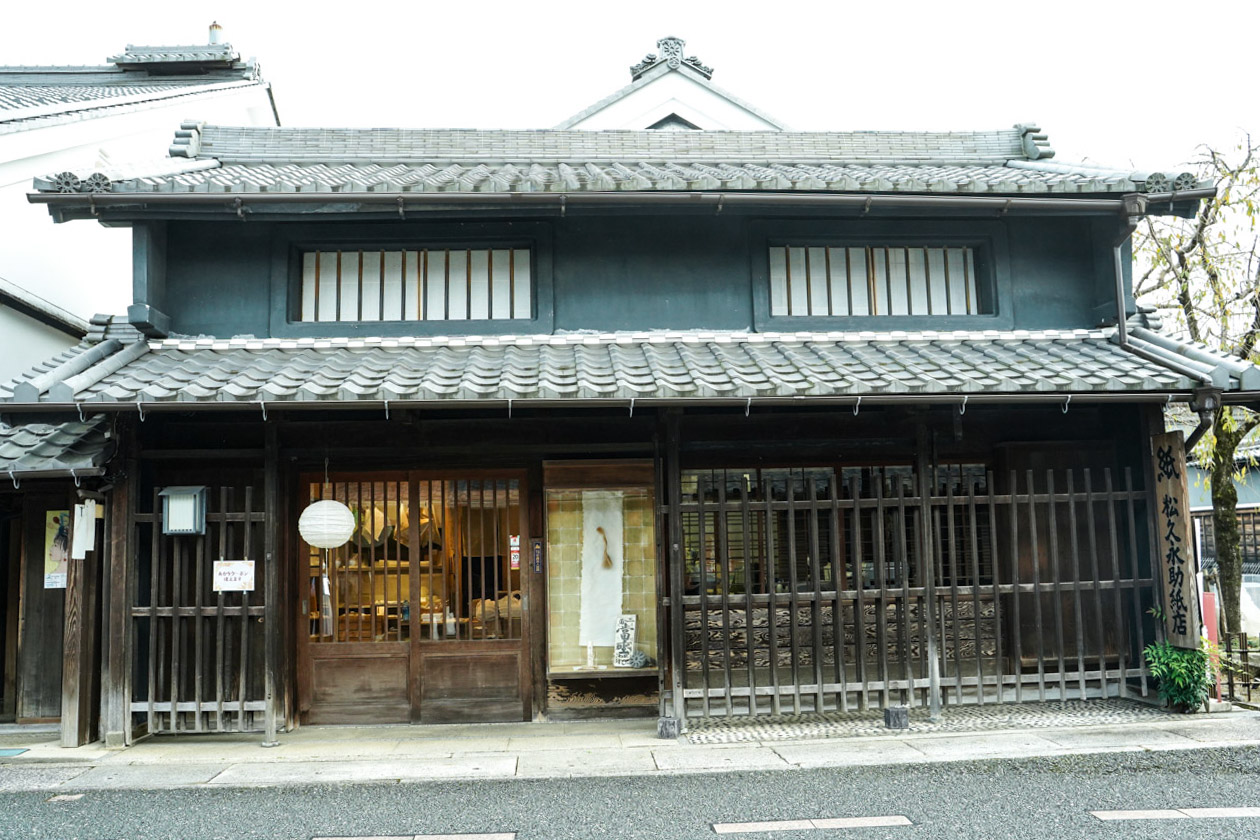 We visited Matsuhisa Eisuke Kamiten and talked to the fifth generation, Kyoko Matsuhisa, about its history and the making of products using Mino washi.
▶ Founded as a wholesaler of Mino washi and other Japanese paper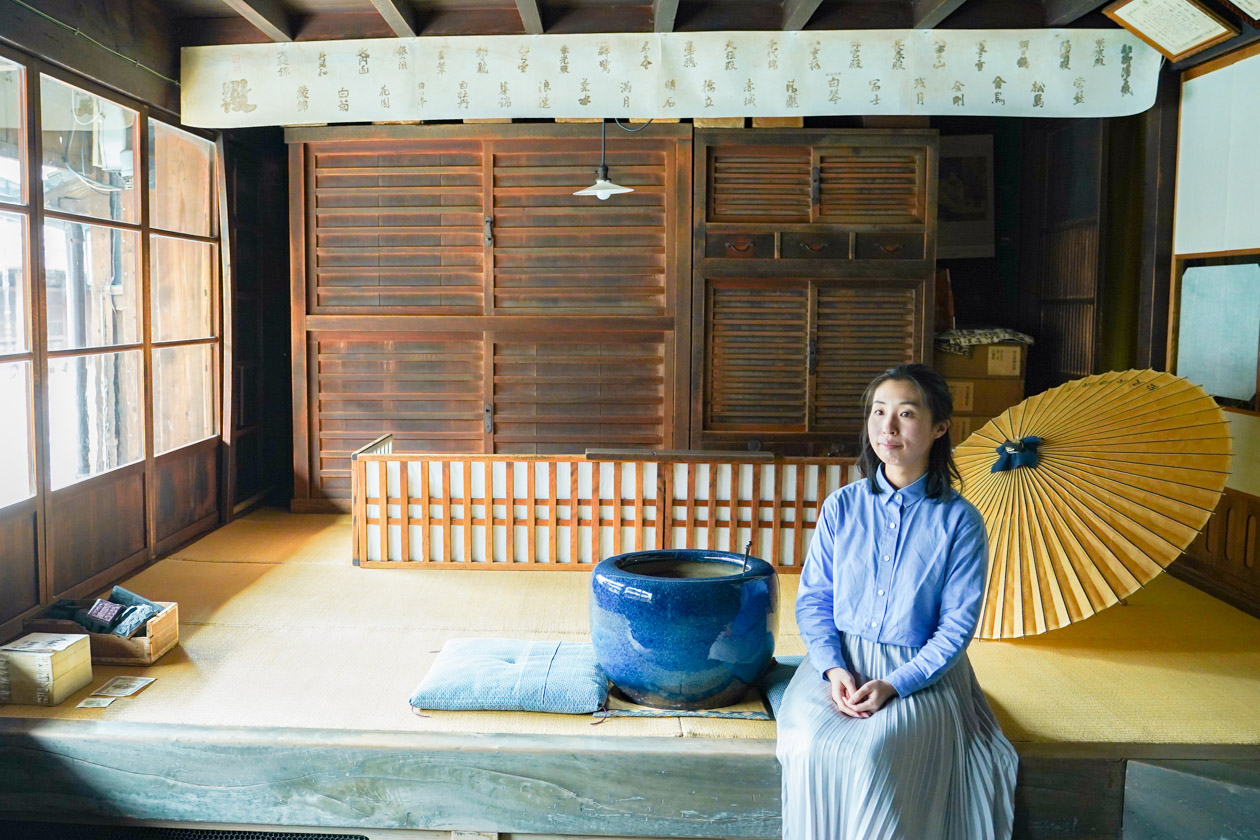 "In the past, this place was used as a counter for a wholesaler of Mino washi," said Kyoko. There are still a "bandai"(the reception area) and account books that were used in the past. She showed us the old trademark and the designs printed on it were as detailed and delicate as bills.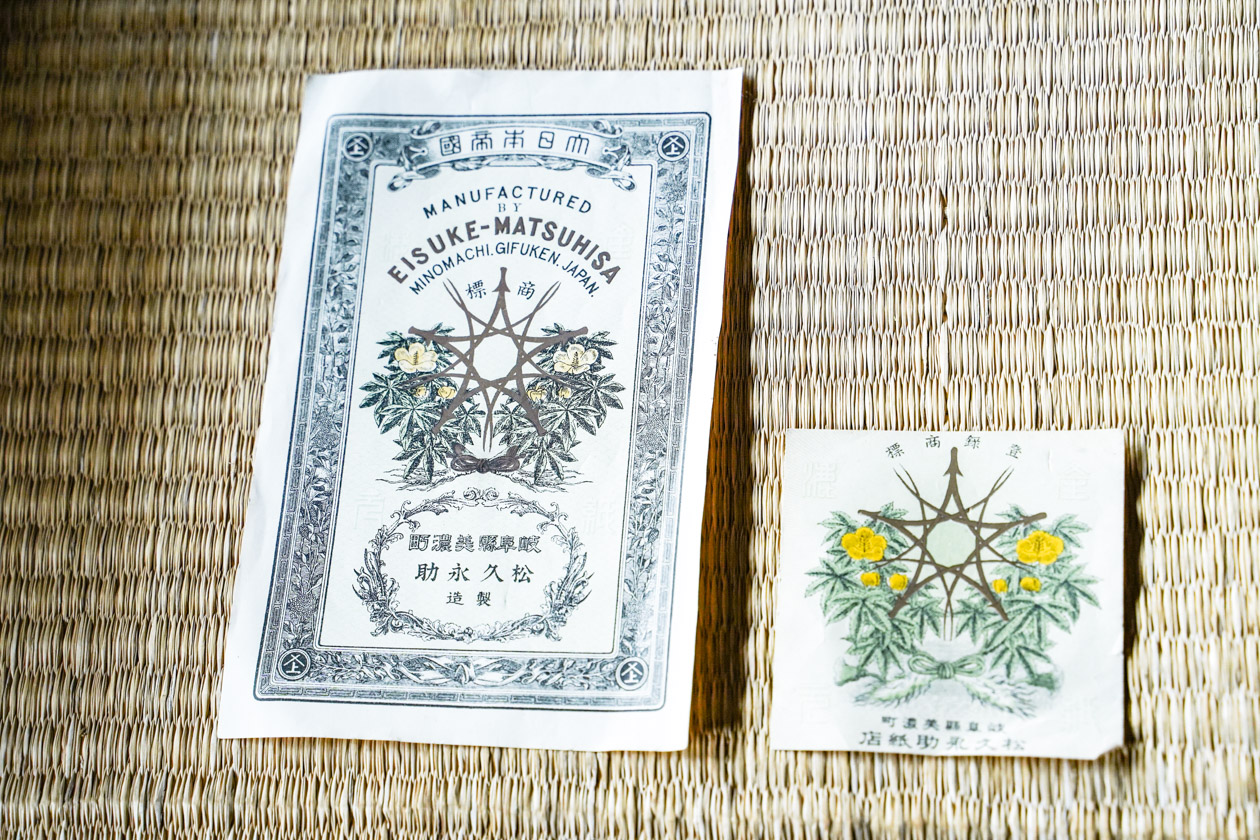 "The plant pictured here is hibiscus manihot, which is used to make neri (mucilage), an essential ingredient in papermaking. The star-like mark in the center is "pine tree" of Matsuhisa. It is also used on the roof tiles of the store",  she said.
Matsuhisa Eisuke Kamitten was founded in 1876 as a washi wholesaler. It dealt in handmade washi such as shoji paper and raw materials, and developed sales channels as far as Osaka and Tokyo. "This area was once a wholesale district. In the old days, thousands of craftsmen of Mino washi were gathered in the place where the present "Mino Washi no Sato Kaikan" is located. And washi was carried by boat from here to Kawahara-cho in Gifu City, which was a river port down the Nagara River. And washi was transported by boat from here to Kawaramachi in Gifu City, which was a river port down the Nagara River." she said.
In 1934, Eisuke Matsuhisa, the third generation, founded the paper company named "Daifuku Paper", and he became involved in manufacturing as well as wholesaling.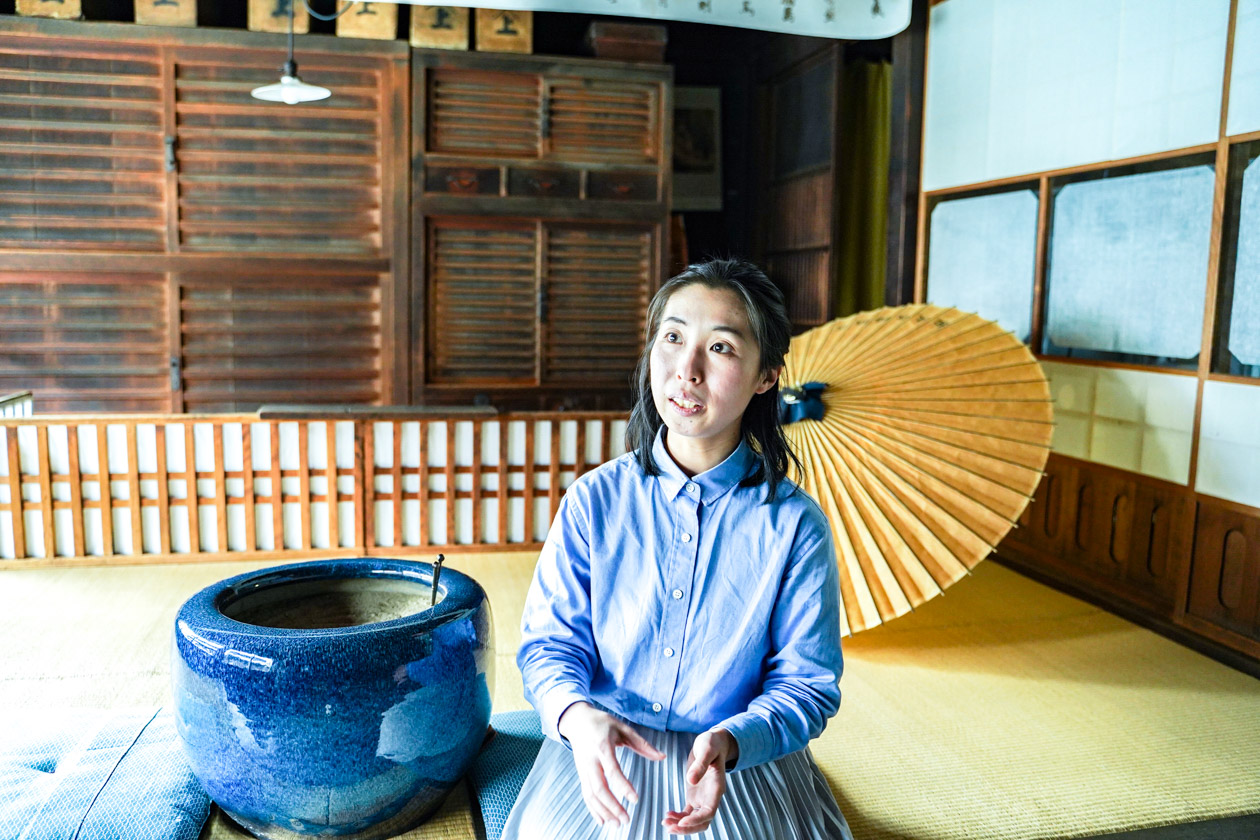 "Thinness and strength are the greatest feature of the Mino Washi. At Daifuku Paper, we make use of this feature to make a variety of products by machine. In fact, masking tape, double-sided tape, and the base paper for vacuum cleaner dust packs are all made of Mino Washi!" she said with excitement.
▶Development of "paper yarn" made from Japanese paper and creation of in-house products
It was about 35 years ago that they started to develop a yarn made of Japanese paper called "Kamito". "Since Mino Washi was already being used for the gold and silver threads of Nishijin-ori textiles, we decided to make  yarn from 100% Japanese paper. However, paper tends to tear easily, so it took a lot of trial and error. Then we got the idea from the paper used to roll bills," she explained.
They succeeded in making strong paper yarn by applying the technology of making "obi-seal," an elastic paper tape used to tightly wrap bills. In order to make even stronger paper yarn, they proceeded to commercialize socks.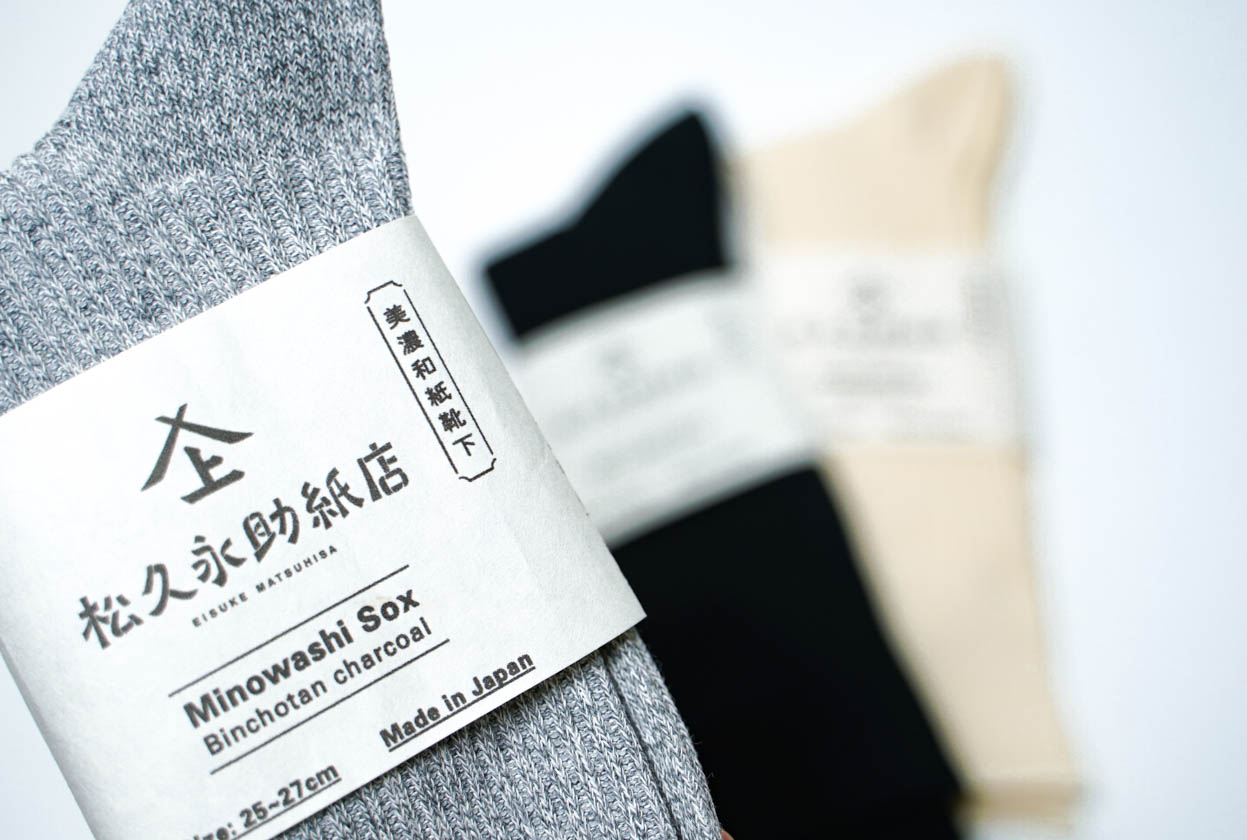 "Socks require strong yarn, because the yarn is pulled hard during the manufacturing process. Therefore, we worked with a sock factory in Seki City to develop this product. We made a special paper yarn, tested the strength by making sock prototypes, and repeatedly improved it. Finally, "Kamito" strong enough to make socks has been developed," she recalls.


About 10 years ago, they started making original products using this strong "Kamito"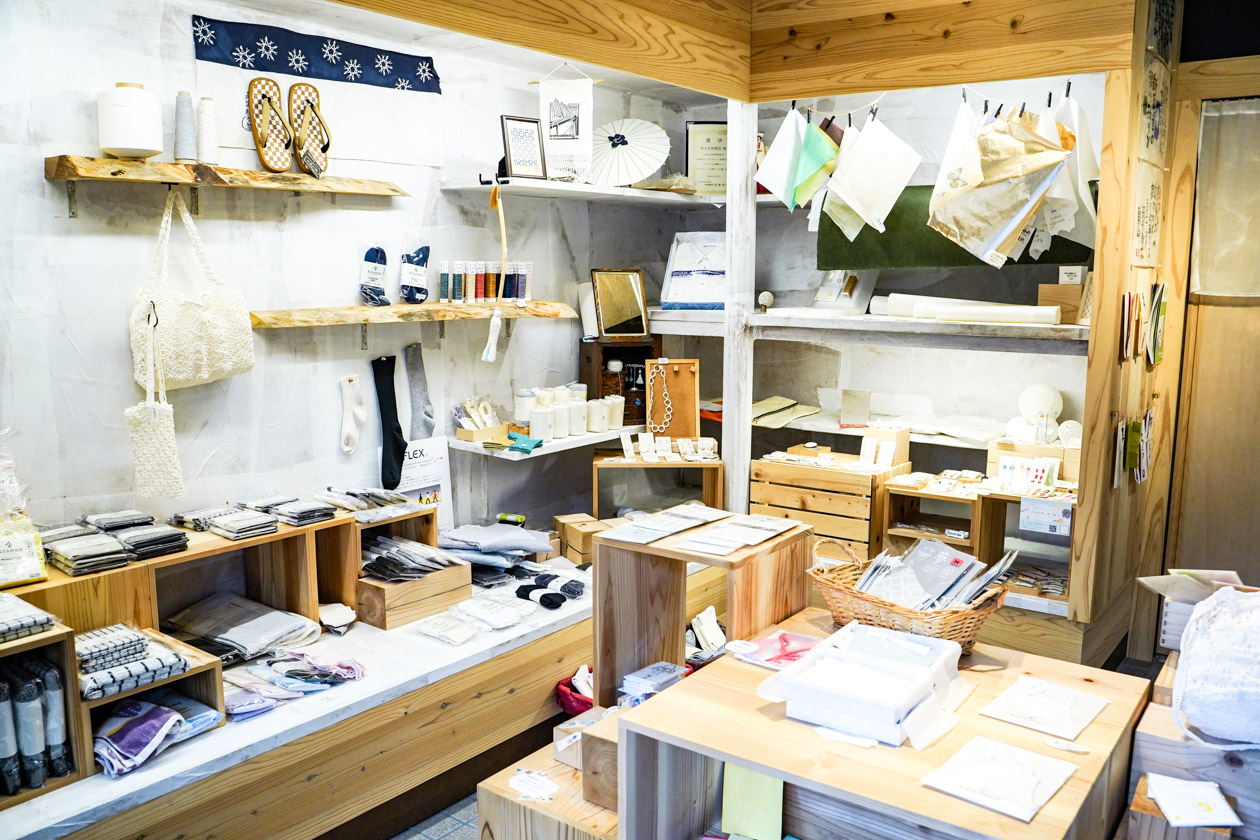 At a store in a corner of the factory, we found many products using this paper yarn and Mino Washi, such as small paper goods like letter and pouches, Kamito, socks and towels etc.
▶ Original products made from "Kamito"
Here is some recommendations for original products "Kamito"
The paper yarn "Kamito," with a very nice astringent color, can be used for knitting and weaving. It's also used by students as a material for their graduation projects!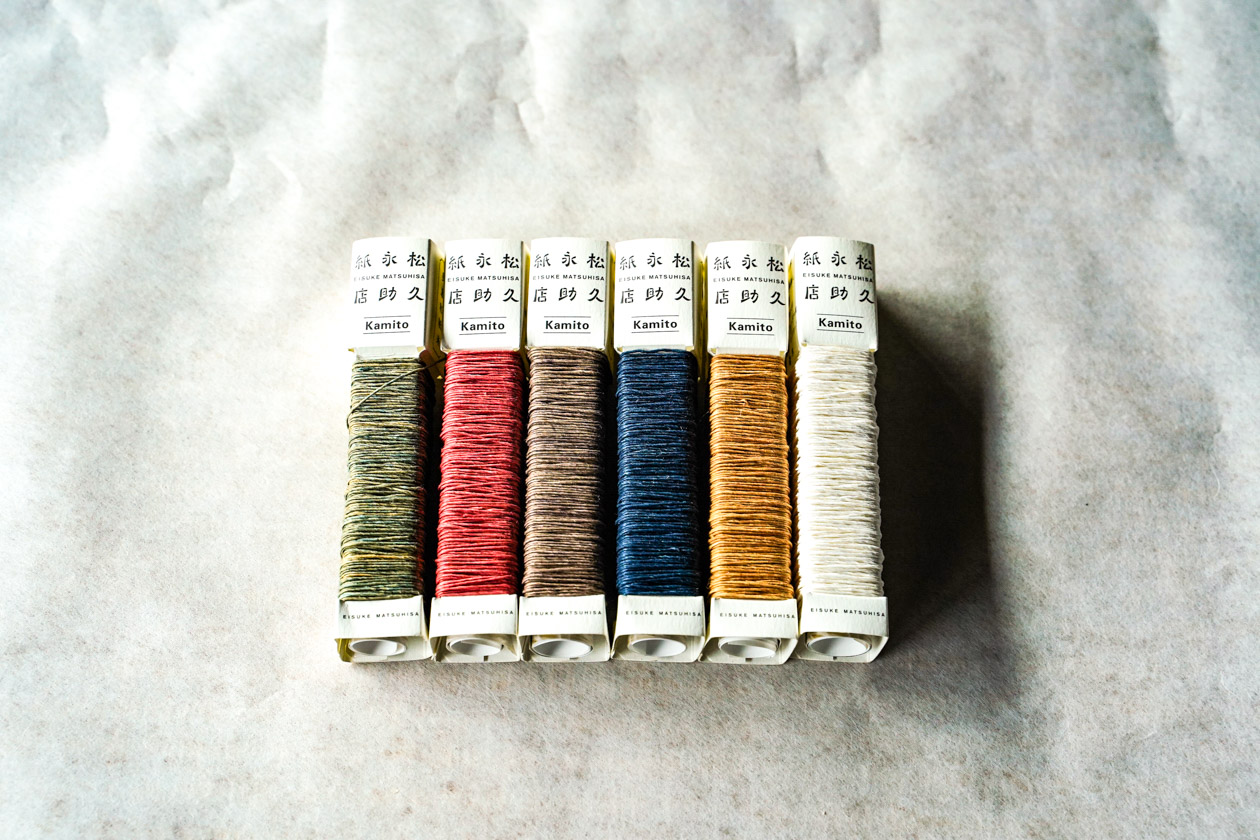 Kamito each ¥ 550 (tax included)
The socks made of Kamito, the pioneer in product development, are highly breathable. It is highly moisture-absorbent and desorbent, so you can wear them comfortably in summer, warmly in winter.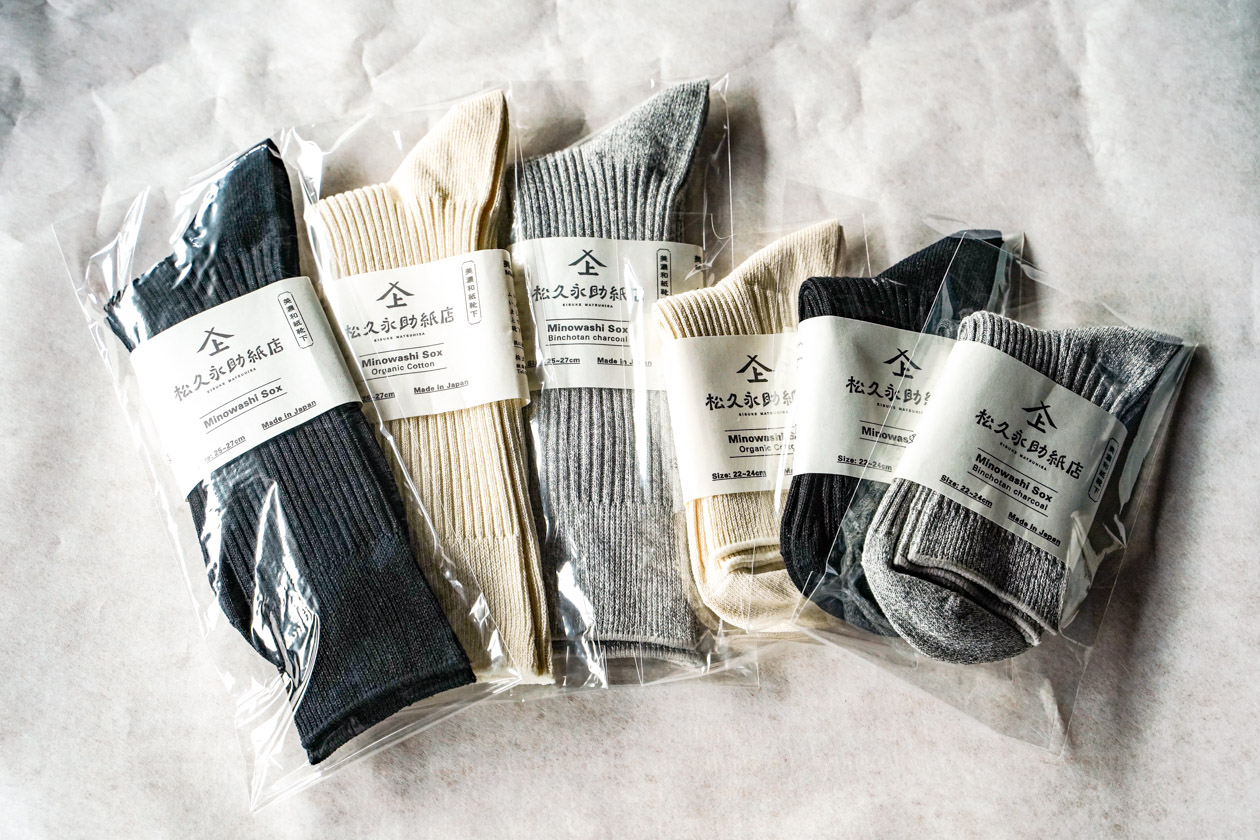 Mino Washi paper socks each ¥ 1,320 (tax included)
"When we first started selling them, people sometimes thought it would tear easily or that it was a disposable product that could not be washed. But now, more and more people are using our products because they know how durable and comfortable they are. Socks are the most popular," said Kyoko.


Next, here is another signature product, the Mino Washi towel. 
It is light, highly absorbent, quick-drying, and deodorizing. It has also been certified as an "Imabari Towel Brand" that has passed its quality standards due to its excellent water absorbency.
Mino Japanese paper towel each ¥ 1,320 (tax included)
The first time you use it, it has a moderate hardness, and the more you use it, the softer it becomes. 
"I recommend using the used towel as a dish towel. Some customers have told me that polishing the sink with this towel makes it shine. Maybe it's because of the bumpy micro fibers," she explains.


We also noticed the lovely paper yarn accessories. These earrings and clip-on earrings were made in collaboration with the knit jewelry brand "pinchos". Kyoko met her at an exhibition and this accessory was born.
Grape earrings / clip-on earrings ¥ 6,270 (tax included)
Ball earrings / clip-on earrings  ¥ 4,400 (tax included)
The ball and grape dangle earrings are woven with warm paper yarn. It will add a subtle touch of color to your outfit.

***
It was about five years ago that Kyoko took over as the fifth generation. She said, "As I learned more about the artisans who make Mino washi and the work of the factory, I felt it was necessary to have people know more about Mino washi and paper yarn. So I started making logos for my products and participating in Gifu Prefecture's projects. Recently, we've been collaborating with industries in various regions of Japan! "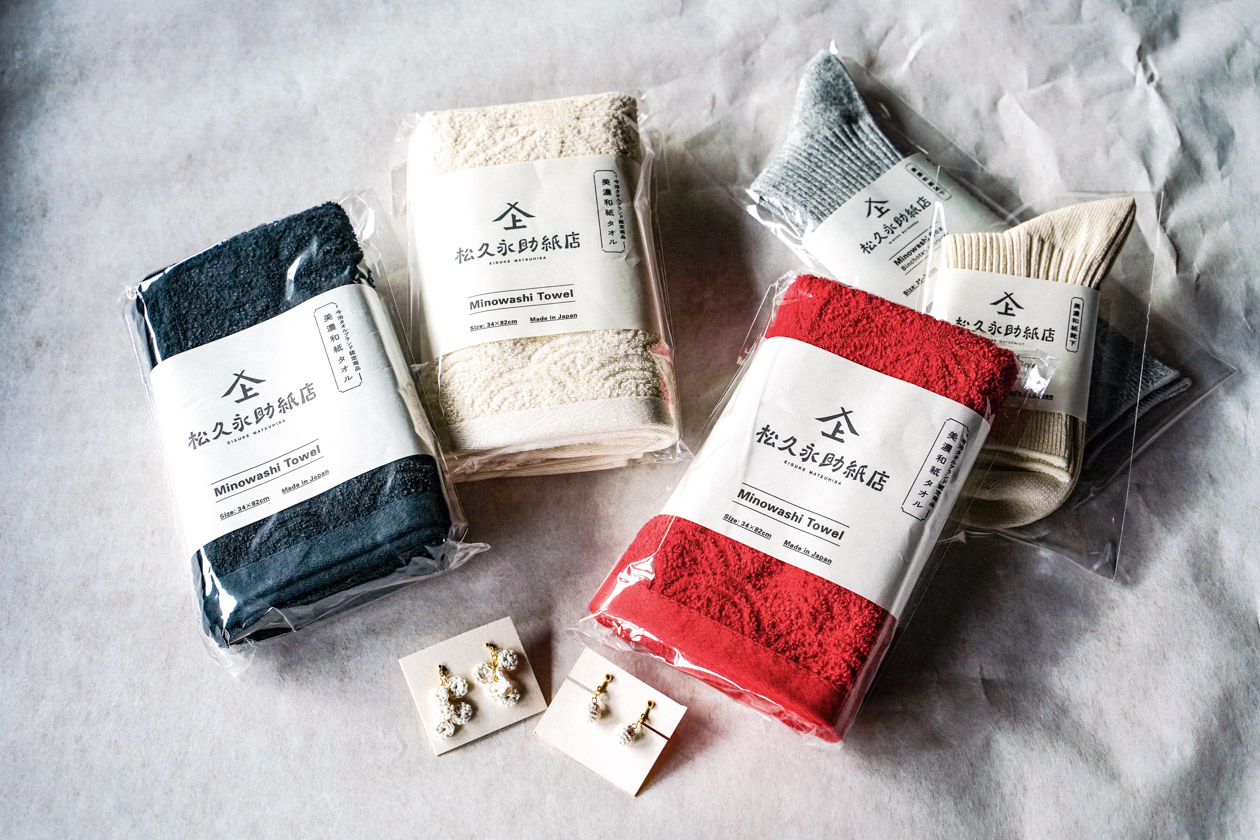 Kyoko hopes that people will get to know the Mino washi through various products and that more people will visit Mino.
The traditional Mino washi paper of Matsuhisa Eisuke Kamiten would make our lives pleasant. Visit us at THE GIFTS SHOP and online store!