Pine Hisanaga Jokami store (Mino)
In the "streets that go up the Udatsu" of Mino "Pine Hisanaga Jokami shop"Mr. Miss. Mino Japanese paper and Japanese paper, paper yarn is made from Japanese paper (and Kamii), especially in the wholesale, such as Japanese paper goods, we are also manufacturing and selling such as socks and towels made of paper yarn.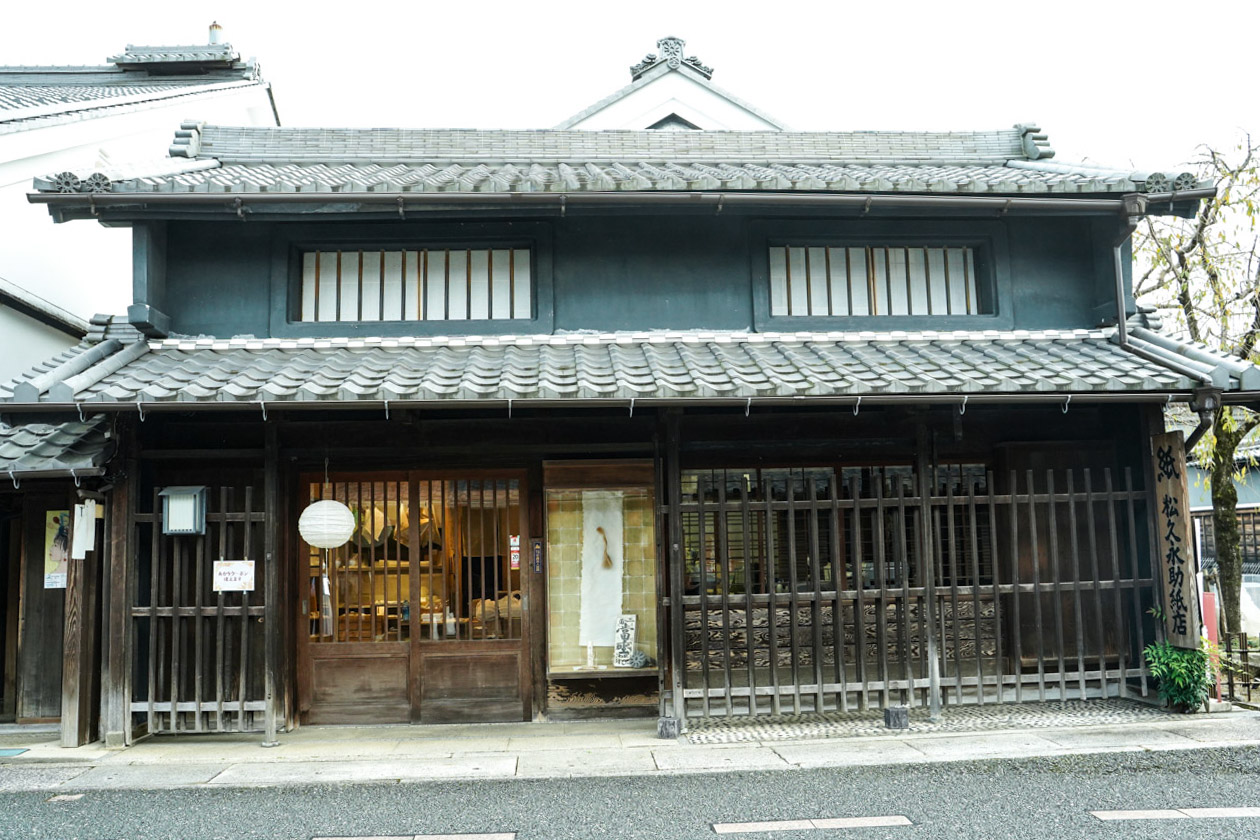 Visited such a pine Hisanaga Jokami store's this time, about the product development using its history and Mino Japanese paper, I heard a story to Matsuhisa Kyoko's fifth generation.
▶ founded as a wholesaler of paper, including the ︎ Mino Japanese paper
The had you guide as "Let's talk or here" is a fine building opposite the store. Once inside, there are causes downright feel the history, the quaint room!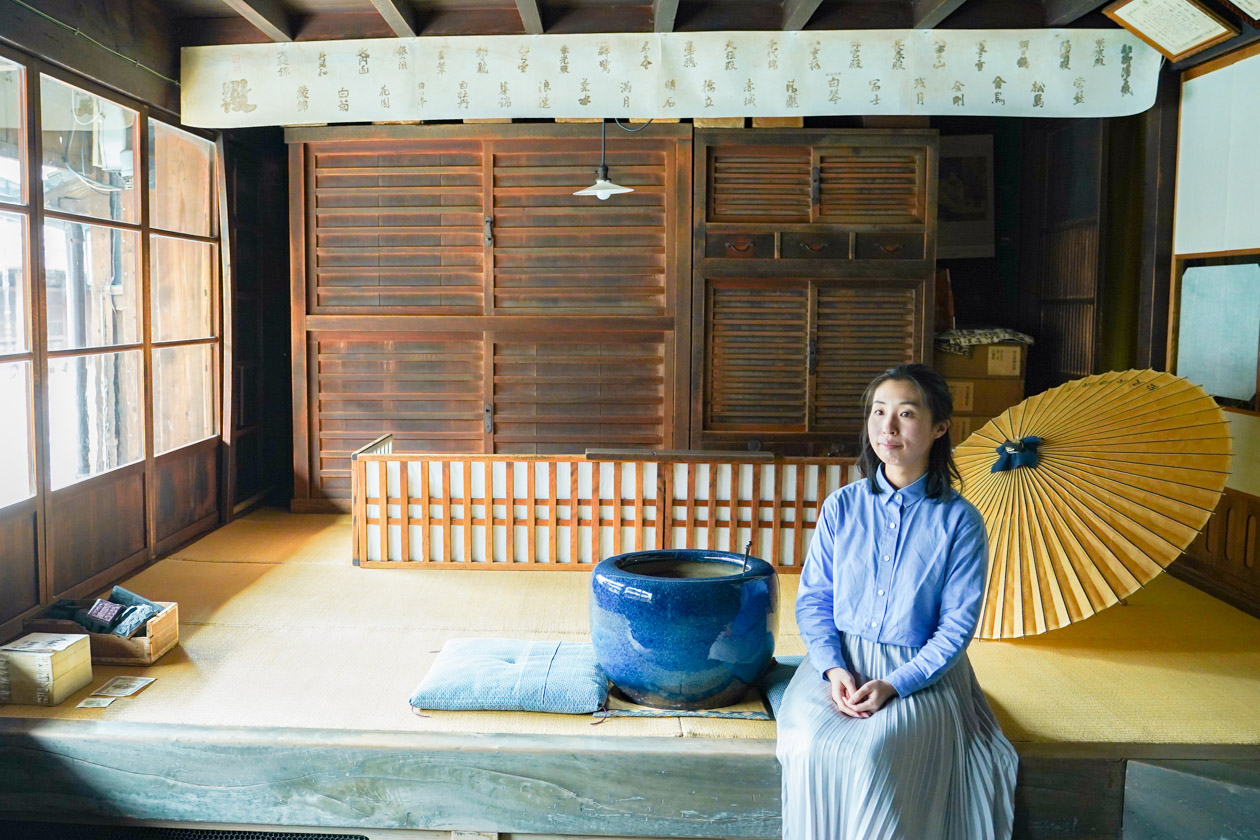 Kyoko as "old days this place, it had been used as Choba of wholesaler of Mino Japanese paper". Here we also remain, such as actually used is to have the series and the book, we have also showed the trademark had been used long ago. Of the picture that has been Sula fine and delicate thing to like a bill!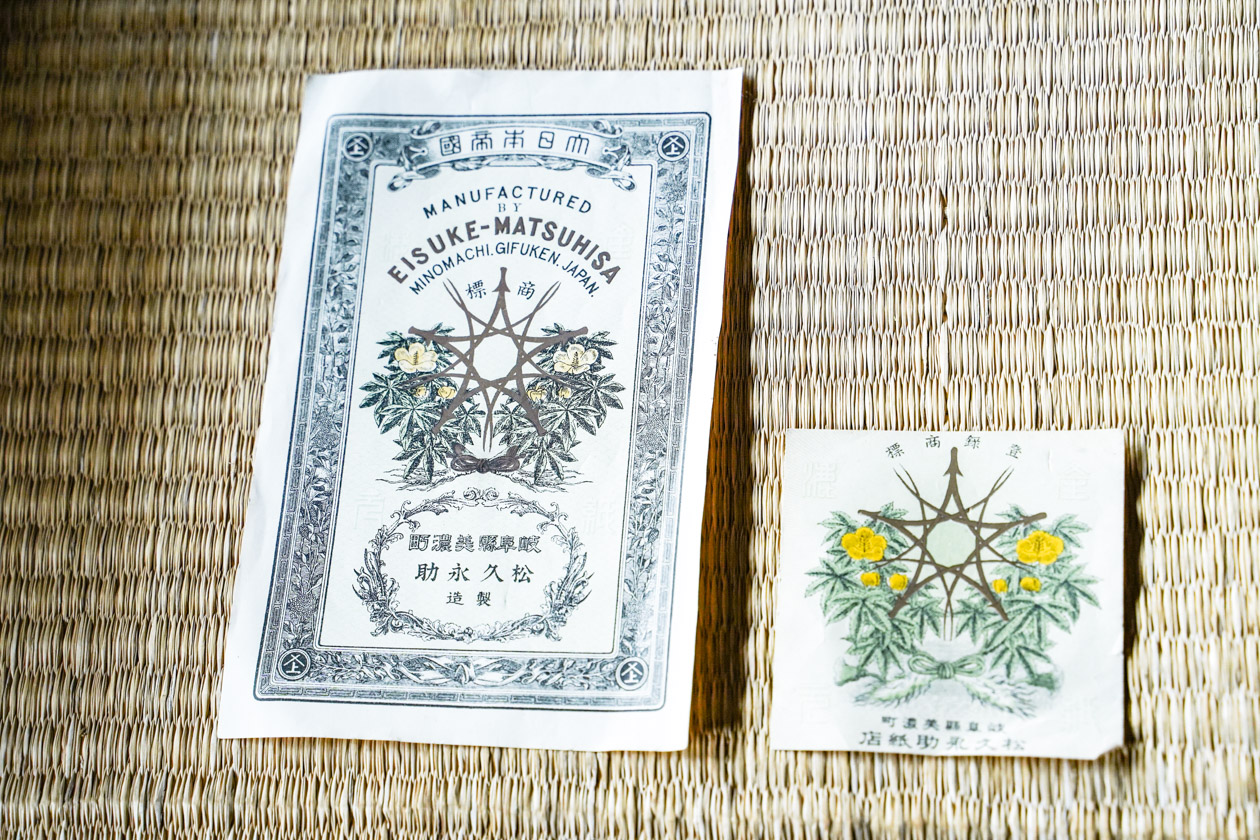 Plants that are drawn, "here is the hibiscus that is used as a papermaking (be) indispensable to come Neri (mucus). Mark, such as the center of the star is in the" pine ". Store roof of Matsuhisa ridge-end tile also we have this mark is used. "
Mr. pine Hisanaga Jokami shop was founded as a wholesaler of paper in 1876. Treats such as handmade Japanese paper and raw materials, such as paper shoji, and develop sales channels to Osaka and Tokyo. "In place around that there is currently" Mino Japanese paper of the village hall "is to gather and craftsmen thousands of units of the old days Mino Japanese paper, around here it was a wholesale district. Then, Japanese paper is from here to the downstream of the Nagara River I I had been transported by ship to such Kawahara-cho in Gifu was Minato ".
The 1934 third generation Matsuhisa Eisuke Mr. paper company "Daifuku PaperWas founded ", now also involved in their production as well as wholesale.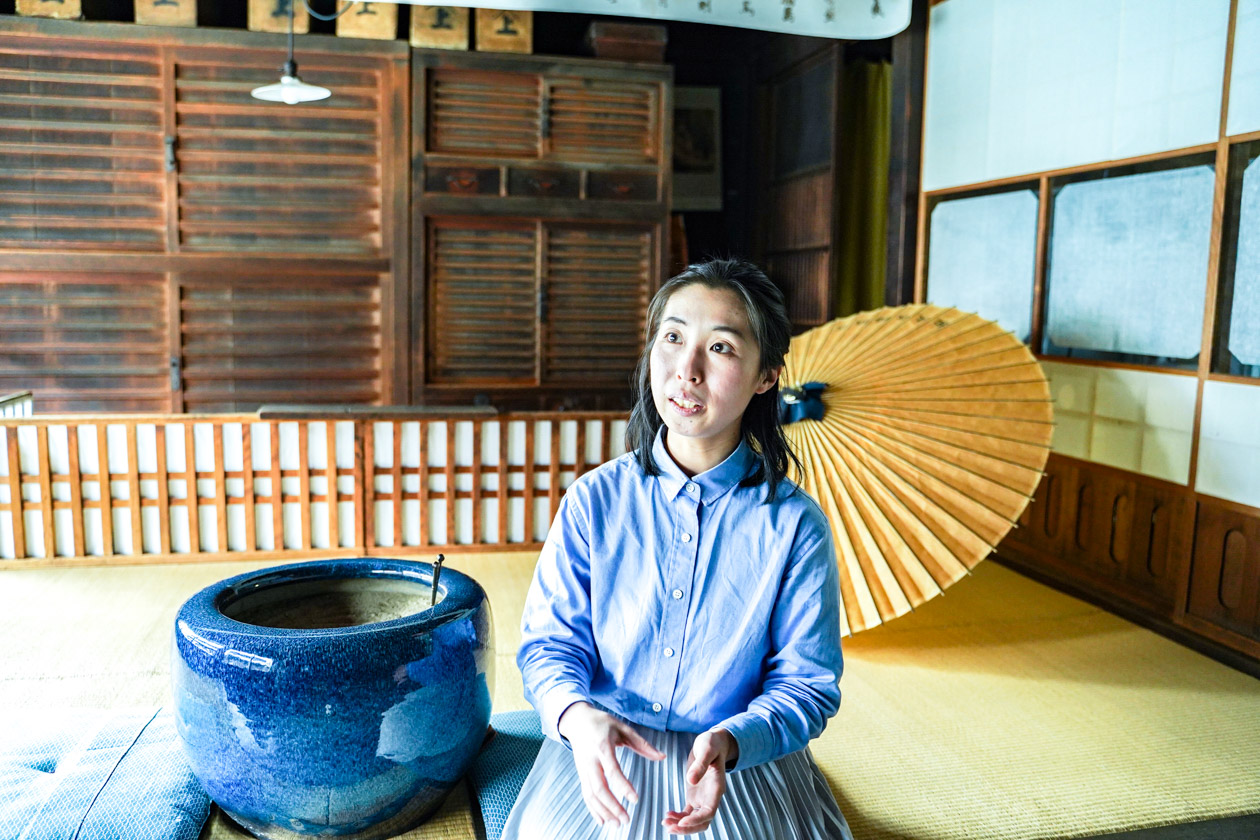 Features of "Mino Japanese paper, strong thinner than anything. In Tai Fook paper taking advantage of its features, I make a variety of products with-out machinery Extract (be). In fact, masking tape and double-sided tape, vacuum cleaner I know Mino Japanese paper well as of the dust pack of paper! "
▶ ︎ made from Japanese paper development and their products making of "yarn paper"
Such pine Hisanaga Jokami shop san, began the development of the thread "thread paper" made of Japanese paper is that before about 35 years. "We had already been used Mino Japanese paper in gold and silver thread of Nishijin, the development from the thought of whether not make the yarn with 100% Japanese paper began. But, because the first place is a paper, easier still torn, trial and error followed year. So became the hint is, in fact, it was a paper wrapping the bill. "
By applying the technology to create a "bundling" of stretchable paper tape to wind fit the bill, we were able to create a durable paper yarn likely. The further advance the commercialization in order to create a durable paper yarn is the socks.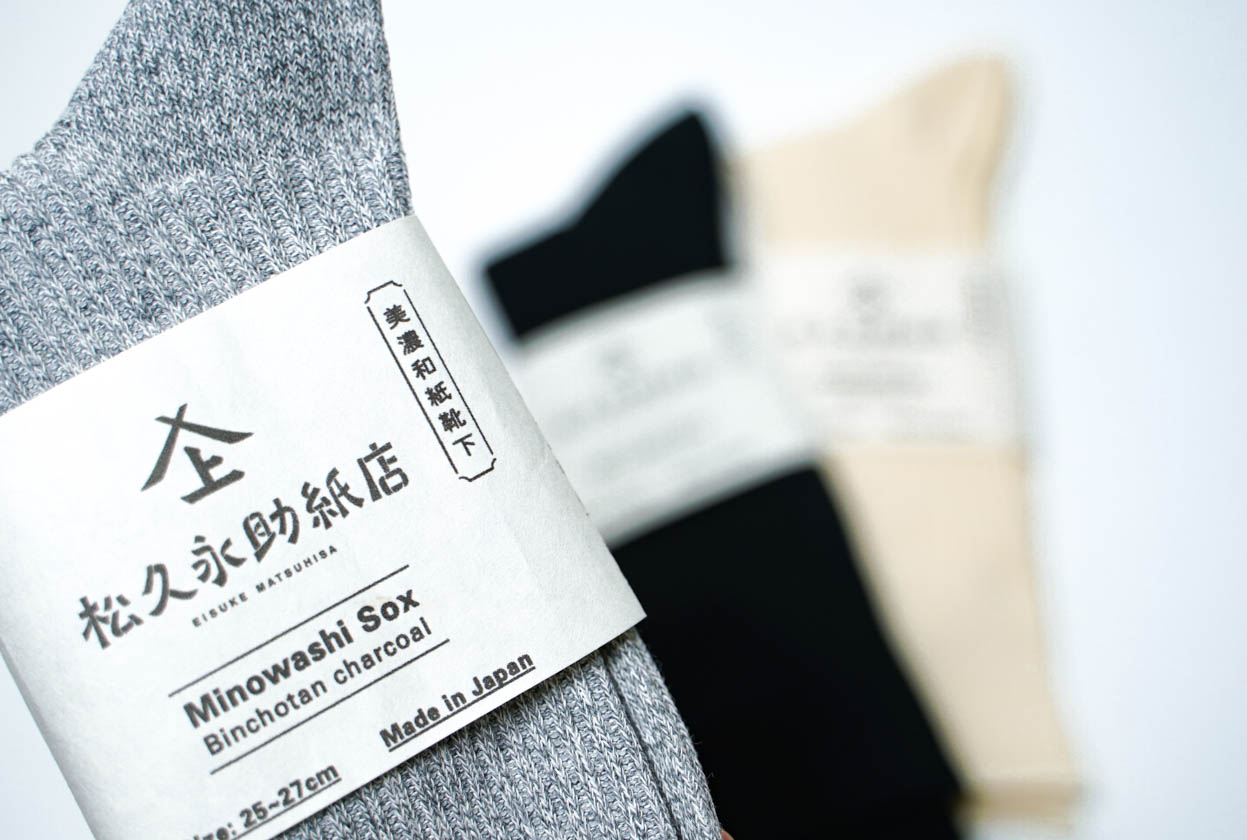 Order to be pulled "socks is strong thread in the manufacturing process, is a difficult commodity that is needed especially strength. But on the contrary, if any goods would also make if it is possible to make a sock, a pair of socks factory's located in Seki cooperation I worked on the development and. dedicated to create a paper yarn, confirmed the strength to make the socks of the prototype, also to improve the paper yarn .... complete the paper yarn and socks manufacturing at the same time, as finally socks can make paper yarn having strength was able development ".
Is a pine Hisanaga Jokami shop's, thus their original making products for the past 10 years with the paper yarn has been developed even started.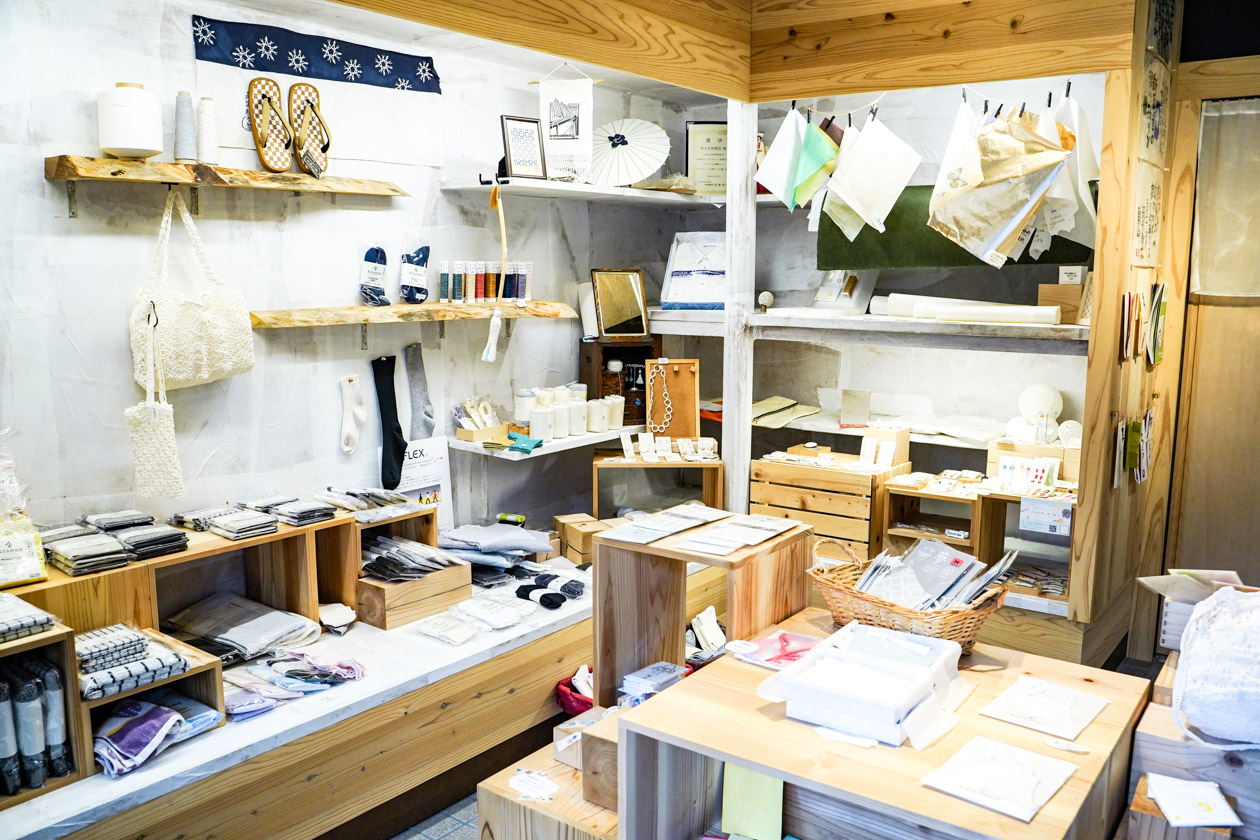 The store located at the corner of the factory, goods will align a lot using such paper yarn and Mino Japanese paper. Paper small items such as stationery and Poti bag, of course, paper yarn of Mino Japanese paper, socks and towels woven paper yarn, mask, bag, until the accessories ...!
Even so, "we are socks and towels from Japanese paper" Nante I'm surprised .... And looking into the shop, "I'm also from Mino Japanese paper such a thing!" And will surprise to the wide range of lineup.
▶ original products made in ︎ paper yarn
Here, we introduce the original products recommended using paper yarn's pine Hisanaga Jokami store!
Is a very nice paper yarn shades with astringent "Kamito", you can use such as knitting and textiles. Where was unusual, even it there is the fact that students are bought as the material of the work, such as a graduation project so!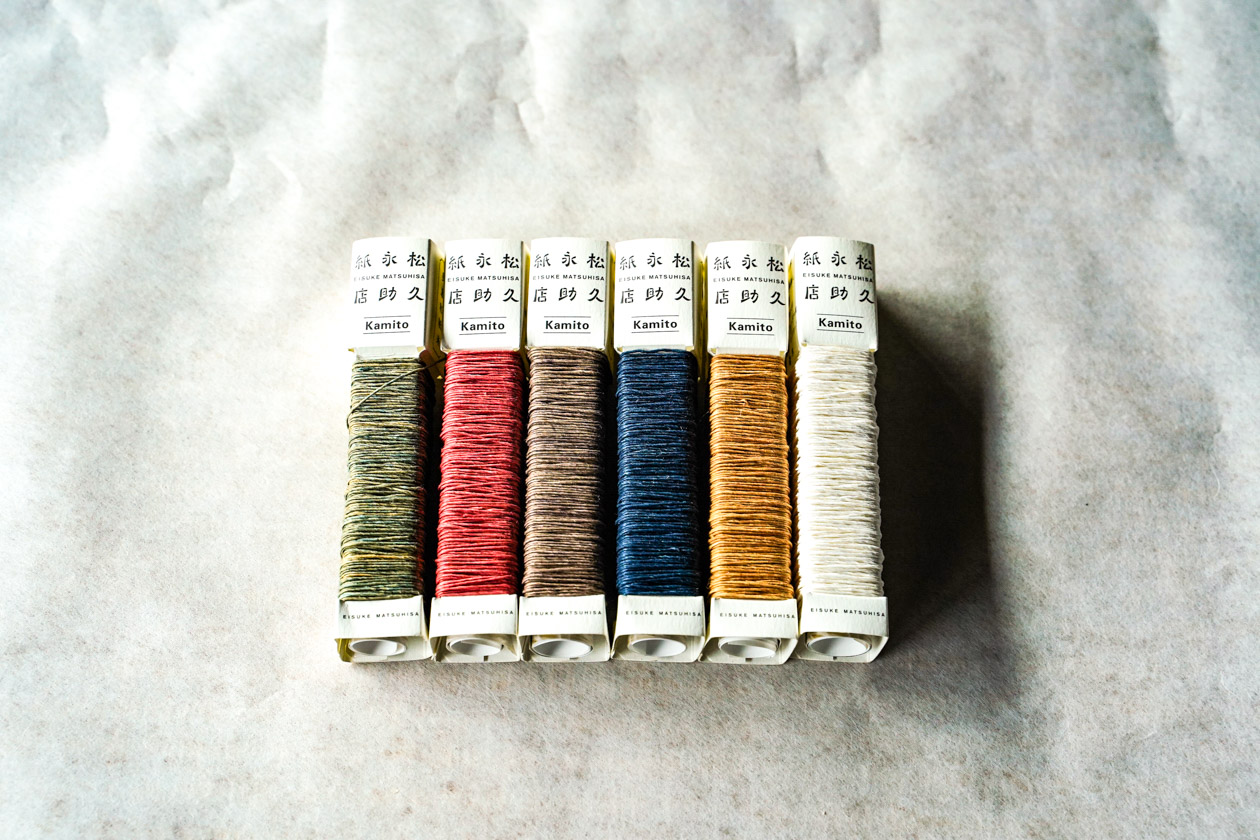 Kamito each ¥ 550 (tax included)
Product development paper yarn socks, which became the forerunner of, than anything breathability is good to a point. Since Kamiito is "moisture sorption" is high, summer brush lightly difficult stuffiness to release the moisture in the winter to absorb the moisture warm because the layer of air has me wrapped the foot, all year round, at any time comfortable such comfort you can feel!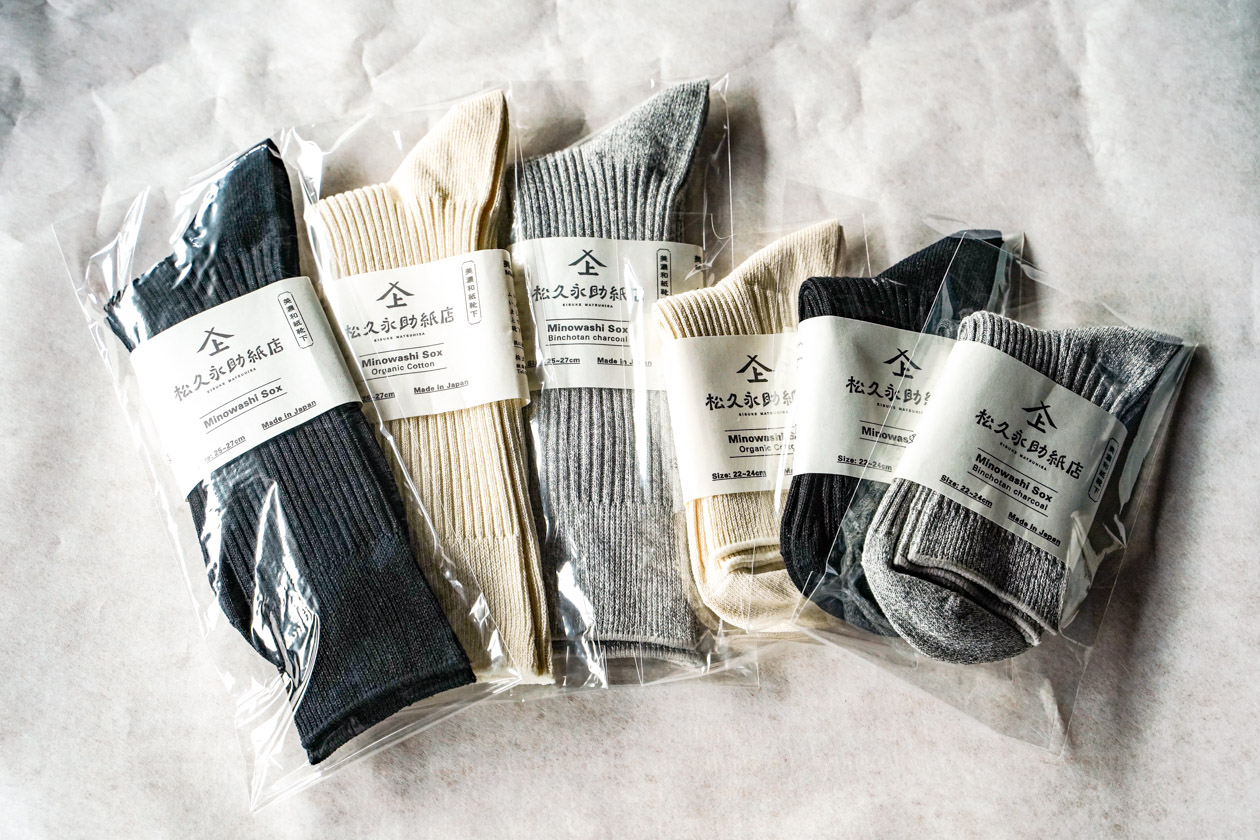 Mino Japanese paper socks each ¥ 1,320 (tax included)
"Actually, Toka I think we originally sold is broken soon, washing can not disposable goods but whether the difference is also there was I, but that misunderstanding, but now is a favorite know its robustness and comfort of good it is on the rise. it is socks there are more of the most repeaters, "said Kyoko.
Then, Mino Japanese paper towel here is also a flagship product. Light, excellent water absorption, there is also a further quick-drying and deodorizing effect. By the way, this Mino Japanese paper towels, excellent have a water-absorbent, are we also received certification of "Imabari towel brand" as a towel that have passed their own quality standards!
Mino Japanese paper towel each ¥ 1,320 (tax included)
The first use in a reasonable hardness of Mino Japanese paper unique, will become soft enough to use. "Worn-out towels, it becomes shiny and polish the sink in I! This towel is recommended for use as a towel, and tell Some customers told me. Maybe thanks to the fiber of the micro, which was bumpy." .
Also look pretty paper yarn of accessories! This earrings and earrings, knit jewelry brand "pinchos(Pintxos) "Mr. and those collaboration. From the fact that Kyoko, who know that's pinchos at a certain exhibition is multiplied by the voice, likely'm accessories using such a wonderful paper yarn was born.
Grape earrings / earrings ¥ 6,270, ball earrings / earrings each ¥ 4,400 (tax included)
Ear in swaying To shake motif of braided balls and grapes in paper yarn warm. Surely, you should be able along with a casually Hana to any coordination!
***
In fact, Kyoko that took over the fifth generation, it of about five years ago. In the course learn the work of "Mino Japanese paper-making artisans and factories, I felt it necessary to get to know more widely that of Mino Japanese paper and paper yarn. So, and making their products logo, now and participate in the business of Gifu Prefecture. recently, with various areas of the industry of Japan are you to collaboration! ".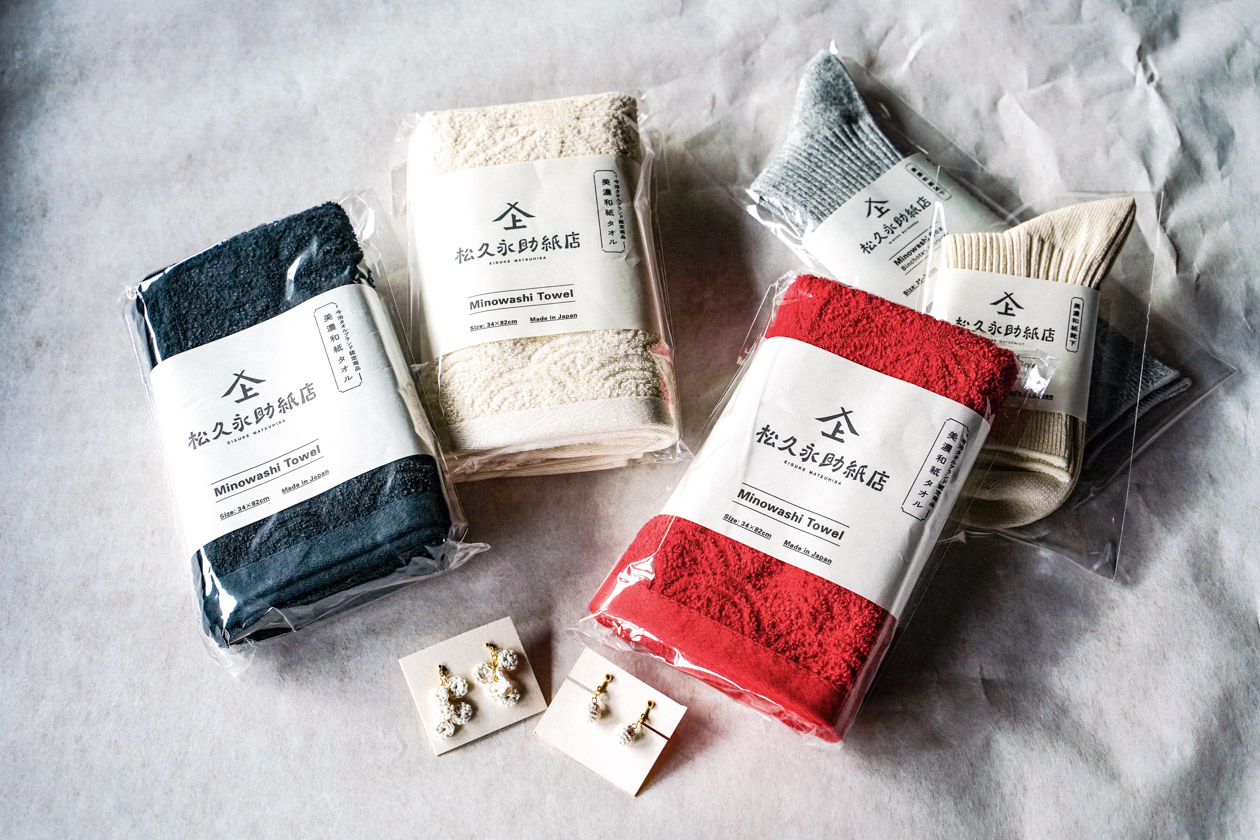 Kyoko, who said, "through the various items, ask to know the Mino Japanese paper, if more and more people who carry the foot even to the Mino".
Such a thought is jammed, pine Hisanaga Jokami store's items. Traditional Mino Japanese paper is, or comfortably our lives, you or me by the addition of colors. By all means, please take a look at THE GIFTS SHOP stores and online store!